About Nellie…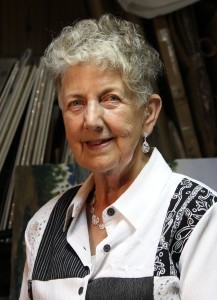 By means of natural ability and skills developed through a life time of experience Nellie de Vries has proven herself to be a skilled interpreter of the rugged northern Ontario landscape, the seaside scenery of Newfoundland as well as the more pastoral scenery of Norfolk county and the Erie shores.
Nellie is a self taught artist with 35 years experience. For years she was a member of ART GROUP 59. Nellie received some private tutoring from the late Stuart Shaw. She is at home in all media as she uses oils, watercolours as well as acrylics at random. Nellie's skills have been significantly impacted by her attendance at the HALIBURTON SCHOOL OF THE ARTS where she received exposure to such artists as John Leonard and other prominent names in the art world. Nellie's studies at Haliburton, which extend over a ten year period, are still ongoing.
Over the years Nellie has participated in a number of juried shows in the Brampton area and won a choice award. Recently she achieved the "Best of Show" award for watercolours in the Simcoe Fair. Her work has been widely purchased by many collectors. If the subject lends itself to it Nellie prefers to paint on location, which often takes her outdoors. She excels in sea and lake side scenery and has a talent for capturing water in motion, regardless of whether it concerns a northern Ontario river, the Newfoundland Atlantic or the North shore of Lake Erie which she also considers a place of great beauty.